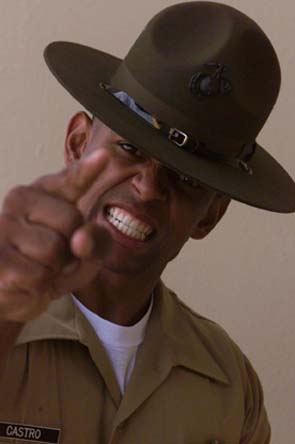 When you get to the San Diego airport, you are to report to the liaison office to check in. You arrive at night which adds to the eerie feeling of the beginning of the end. I got there with three other people and we had an hour before we were to check in. We went to find something to eat but the combination of fear, expectation, and just plain excitement caused us all to wander around in a daze. I felt like an escaped prisoner who would be caught at any minute. It really made me look at the people going about their normal routine in a different light. I was about to enter bootcamp and it was just another night at the airport for all of them. The warm weather and palm trees were so alien and misleading because soon, this paradise would turn sour. The time of reckoning had come.
The three of us got to the desk where a Corporal was waiting. We approached him with apprehension and expected him to start in on us immediately. We reported in the best way our little civilian minds knew how to do it, from watching movies. The Marine just kind of chuckled and had us fill out some paperwork and then to get on the bus. Alas, he was not a drill instructor but a bus driver. He treated us like cattle but at least he did not have a branding iron! That treatment would come soon enough.
We waited on the bus for what seemed like a long time. Just as nervous male teenagers must do in a tense situation, the joking began. Pretty soon everyone was yapping and horsing around. And then IT happened. Suddenly, I saw the top of a smokey hat shoot up the stairs to the bus and under it was a mean-looking bastard with a voice to match.
"SHUT YOUR FILTHY SUCKS! I DON'T KNOW WHY I HEAR A BUNCH OF NASTY CIVILIANS RUNNING THEIR SEWERS! YOU WILL SIT IN YOUR SEAT WITH YOUR HANDS ON YOUR KNEES. YOU WILL SIT UP STRAIGHT FACING FORWARD AND LOCK YOUR EYEBALLS ON THE BACK OF THE HEAD OF THE PIG IN FRONT OF YOU! YOU WILL NOT MOVE."
As quickly as he came in, he was gone. There was not a boy on that bus who even dared to disobey what was just explained to him. We knew we had arrived. About ten minutes went by and two more boys came aboard the bus. We were all like statues and, unaware of the tongue-lashing we had just received, they were still in the joking mode. They took a seat toward the front and commenced to act just as we had acted before the DI had exploded in. Everyone was too scared to even inform them of the "rules." It was not long before I heard comments like "Geez, lighten up. Why is everyone so uptight?" They continued to giggle and make comments. As a result, I do not think I was alone in relishing that DI coming back. We all knew they were playing baseball with hand grenades and we all waited for the explosion. We did not have to wait long.
When the DI returned, he did not know that these two clowns were new, not that that would have mattered. So it appeared to him that they were grab-assing in spite of the warning he had given. What happened next was not very pretty. Picture a hungry pitbull going after two wounded kittens. After the bloodbath, the DI disappeared and all was quiet on the terror express. I mean as quiet as I have ever heard it. The only sound I could hear is my own heartbeat. An onlooker would think that the bus was shipping mannequins. Even the two comedians up front were in stealth mode. Especially the two comedians!!!
Without fanfare, the bus driver jumped on the bus, shut the door, and drove off. The airport and the recruit depot share a fence but it took about 10 minutes through traffic to get to the depot. It was both the shortest and longest bus ride of my life. You wanted time to get going in order to release the expectation but you knew what was waiting for you at the end of the bus ride. As we neared the main gate, the road went down into a tunnel-like underpass. It reminded me of going into the mouth of a monster. I was not far off because the other side was the main gate.
Every set of recruits get to the depot at night. This is to disorient the recruits and add to the psychological pressure. It is believed that by bringing them in at night will discourage anyone from knowing how to get away. It also ensures that the recruits are awake all night which again, helps in the psychological draining. You are tired and confused all night and for those with too much spunk, the all-night initiation makes them easier to control.
As the bus pulled up and stopped in front of the receiving barracks, we were blind. There are bright lights that bathe the bus in blinding spotlights and the DIs are standing in front of them. The effect is the silhouetted forms of a herd of DIs. They looked like faceless, black demons. The bus stopped and here they came. They attacked the bus like wild animals. The first one in started yelling beyond comprehension. The only thing we knew for sure is that we should have already been off the bus. In short order, we were propelled by the vicious verbal onslaught and filed off the bus like prisoners out of a burning jail. As I got to the doorway, I was greeted by the DI yelling at me to go this way, that way, no way, every way!! I was escorted to a set of yellow painted footprints and was told to stay there, frozen, and I had absolutely no problem with that. I knew I couldn't screw that up. I was wrong.
Things get hazy at this point. I remember that we got our haircuts the moment we got into the building. I arrived with a guy named Jason Long who I went to high school with. We were not friends or anything but I remember he had long, blond curly hair and he was over six feet tall. I caught a glimpse of him with his head shaved and that was the only humorous moment during receiving night. I knew that I looked just as ridiculous but that was beside the point!
Next we got our issue of clothing. We stood in line and we were herded from line to line. As we stood there with our arms out, Marines would throw uniform items at us. When we went through the line where we got our covers, they just put it on our bald heads any which way. They would throw the cloths using our faces as backboards. To this day, I get a funny feeling when I smell new cammies. It brings back all of these "receiving" emotions.
After we crammed everything we had just been given into a seabag, the paperwork started. Reams and reams of paperwork done by the numbers while being yelled at. The hardest thing was staying awake but the roving DIs made sure that we were paying adequate attention to the admin staff. We were sitting in cubicles painted with high gloss red paint. I remember trying to see my reflection so that I could see what I looked like without hair. I could see my outline but that was about it. The seasoned DIs knew what I was doing and of course I was, you guessed it, yelled at for it. It seems that the number one act that the DIs kept yelling about was touching and rubbing our bald heads. For some reason, when you get your head shaved, it is human nature to keep rubbing it. I think this is because at first it is numb. Then, after awhile, it becomes intriguing to feel the skin on the top of your head because that portion of your head has never before had direct tactile contact. Whatever the reason, The DIs did not like it. But then again, they did not like anything.
We were allowed about two hours of sleep that night and then the receiving cycle began. The first few days are spent on paperwork and administrative tasks. You are delivered to your receiving DIs who run you through the moves and teach you the most basic fundamentals in preparation for your permanent DIs. This is so when the actual training cycle commences, you have all of the in-processing work done and you know enough about the basic fundamentals to start training. It is a shocking introduction that no one who has been through it will ever forget (no matter how hard they try).
---