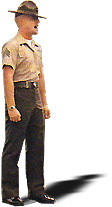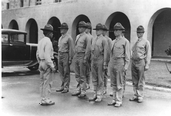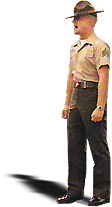 This page serves two purposes. First, it is a record of my recollections. Because time robs us of our memories and the outlandish tales grow more and more outlandish every year, I want a record of the incredible experience of Marine Corps bootcamp. Second, I hope you will read and enjoy these stories. They are also for you. They are as true as I can remember but my mind was a little warped back then.
BACKGROUND
On June 13, 1987, I graduated high school from Thomas Jefferson High School in Auburn, Washington. I was already enlisted in the Marine Corps on a six-year hitch starting on July 28th. I received guaranteed avionic field, guaranteed west coast stationing, and guaranteed promotions through the rank of corporal. But before I could claim these prizes, I had to endure 3 months in San Diego's United States Marine Corps Recruit Depot.
The night before I left, my girlfriend (now wife) and I spent a wonderful yet uncomfortable evening trying not to think about what was going to happen. We had recently seen Stanley Kubrick's Full Metal Jacket and neither of us felt good about what I was about to do. As we said good night and I waved from the parking lot of the hotel I was put in for the night, I knew that for better or worse, I was embarking on a life-changing journey. The next day I went to the MEPS station for the typical all-day paper shuffle and was put on a plane that night. Here is where the fun began.
THE DRILL INSTRUCTORS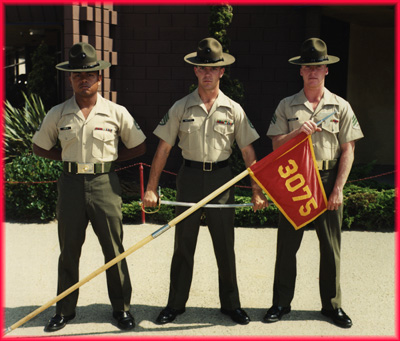 Drill Instructor Staff Sergeant Ingram (Receiving, not pictured)
Drill Instructor Sergeant Bonilla (Receiving, not pictured)
Senior Drill Instructor Staff Sergeant Wertjes
Read about my reunion with Sergeant Major Wertjes!!!!
Drill Instructor Staff Sergeant Garcia
Drill Instructor Sergeant Robinson
THE STORIES
The Moment
The M&M's
The Pepsi
The Flattop
The Mail Call
The Clock
The Fudge
The Lost King
The Rash
The Wake-up Call
The Rope
The Chow
THE RECRUITS
Go here for a thumbnail gallery of all these recruits!!
SECOND-HAND STORIES
These are stories I have been told over the years. I can not attest to their validity nor accuracy but if they sound a bit far-fetched, remember: the universe of bootcamp is not the reality normal people live. In other words, the stranger the story, the more truthful it probably is. If you would like to contribute a story, email me and I'll put it in here.

The Movie by Maurice A. Hallauer, GySgt USMC Ret.
Bootcamp stories by Cameron McCurry
Note: All of the names of Drill Instructors and have been changed to random names.
Crack Pipe
The Big Scare
Rifle Range
Office Hours
Cruible
Motivational Run and Base Liberty
Graduation