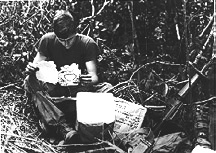 On an individual and personal level, their is a hierarchy of needs and wants in bootcamp. These things are the only things that are looked forward to and are always in short demand. Although you would think that sleep would top the list, it does not. Your next guess might be chow time but again, it makes yet does not top the list. Above sleep and food, the number one sought after item in bootcamp is mail. Mail is everything; it is a link to the outside world, the link to loved ones who have compassion and kind words.
You stay up after lights out to read mail, trading sleep for mail. You rush through chow to read mail, trading chow for mail. You read letters over and over and over and over......until they are little more than shreds of paper wadded up in your cargo pocket.
The moment that a recruit gets his mail is much like a feeding frenzy in a shark-infested bathtub....yet controlled by the drill instructors. At the end of the day, the drill instructor will sound mail call and a blur of legs and arms stampede to the quarter deck. You sit down, usually in skivvies and shower shoes while the drill instructor brings out "The Stack." As 75 recruits anxiously sit, the drill instructor would call out a name. Depending on the time frame, either the DI would throw the mail at the responding recruit or have him come up and get it by slapping his hands together with the mail in the middle.
If the DI chose to throw it, it was incredible to see the aim they had. If you have ever thrown a letter, you know that it goes every which way as it slices through the air. DI's seem to have it down and would invariably nail the recruit he was aiming at...HARD. But who cares? A sliced cheek was a small price to pay for mail. Most guys would have given blood for mail, and many did.
Postcards were the worst though. They would play the postcard game every time they came across it. What the drill instructors would do was start reading the card without telling who it was to. You had to listen and as soon as you recognized that it was yours, he would stop and throw it to you. That way, if you did not recognize it, well the entire platoon got to hear from your friends. It was fun, unless they wrote things about the DI's. Then it got real "not fun" real fast.
The bonus to mail was if there was a picture inside. If mail was money, pictures were pure gold. Every recruit yearned to see loved ones and familiar places. Girlfriends, Mom, Dad, brothers, sisters, dogs, cats, anything. These pictures usually became mangle throughout the training cycle but they were the last vestiges of better days.
One day Senior Drill Instructor SSGT Wertjes called me into the duty hut and asked if I had been getting my mail. I said I had not received any mail from my Mom so he allowed me to have a phone call. Being the sneaky, undisciplined teen that I was, I called my girlfriend. The phone was a pay phone that was outside one of the barracks so it was somewhat private. I called Carrie and we talked for about ten minutes. I was so happy. I went back to SSGT Wertjes and told him that I could not get through and that my mother was probably at my grandmother's house. He then told me to make another phone call and to try that house. I called Carrie again. While we were talking one of the drill instructors from another platoon came over and jacked me up. I played it cool and assured him I had authorization. He seemed satisfied with that, as satisfied as a DI can be. Afterwards I informed SSGT Wertjes that I still did not get through and he said he would let me try another day. The next day I got a letter from my Mom so that was that.
---