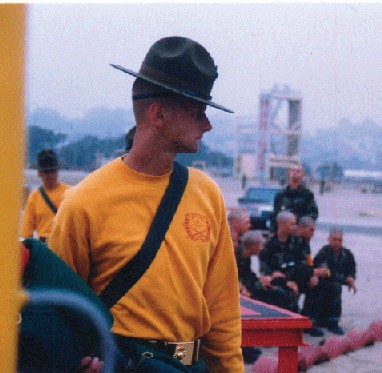 Bootcamp is broken up into three phases. The first phase is the tearing down process and introduction to basic skills. Phase two is marksmanship and the third phase is the building up and testing phase. But as the following story will show, even the third phase has its share of games.
Our platoon, 3075, had just won final drill competition. We had won the physical fitness test (PFT) but were not the highest scholastic superstars. In fact, we were quite ignorant as a group. But when it came to anything physical, we excelled. After winning drill, we all were pretty elated and felt on top of the world. To the drill instructors, this was a situation that had to be taken under control. And this is what happened.
Senior drill instructor SSGT Wertjes was our daddy. He was the "good cop" in the "good cop / bad cop" routine. As a reward, he decided to give the platoon a most unusual treat. He wanted to give us some M&M's. Earlier in the training, one of the recruits had received two rather large bags of M&M's in the mail. Since candy was contraband, it was confiscated by the drill instructors. SSGT Wertjes ordered SGT Robinson to hand out the candy. He yelled at everyone to get there "nasty bodies" into his classroom (the open area in front of the duty hut where we received instruction).
As everyone crammed in and sat down, no one knew what was happening. But this was nothing new; we always expected the unexpected. Out of the duty hut came SGT Robinson with a large bag of M&M's in each hand. His demeanor and face was still that of an irate madman, as usual. He walked over to the podium, slammed down the candy in disgust and scanned the platoon with obvious disapproval. He said nothing for about five seconds. Everyone felt guilty for no specific reason. Eventually, he said in his usual angry manner:
"Senior Drill Instructor SSGT Wertjes has ordered me to distribute this pogey bait to you pigs for your performance at drill. Personally, I don't think you deserve it!"
His voice raised in volume
"Here is how it works, ladies. Each of you will take a small handful and pass it on. You will eat these fat bombs here in the classroom and only here. Just throw them down your nasty sucks. Just let me catch one of them in your pocket. See if I don't bend you all until you cry."
He then threw one bag to the guide and yelled "Begin!"
We had not had candy in months. This moment was monumental. As the bag went around, you could see that everyone was heeding SGT Robinson's words. We could not eat those M&M's fast enough. After we were done, we realized what was going to happen. The Senior was leaving and SGT Robinson was on duty that night. We were all going to pay hard for each one of those M&M's.
Watching Senior leave was like watching a boat leave you in shark-infested waters. And SGT Robinson was the baddest shark of them all. As the Senior left, he barked "Guide, get these worthless scumbags in formation outside, RIGHT FREAKIN' NOW!" We knew what was coming.
When we got out there, we were marched to the sandpit where we noticed that our third DI, SSGT Garcia was standing. The sandpit was approximately the size of a football field and SSGT Garcia was at the far end. As we approached, SSGT Garcia loud, accented voice boomed across the pit. "FALL IN!" This meant that we were to run over and fall into formation. We all dashed like madmen. Once we got there, SSGT Garcia was screaming how slow we had been and told us to hit the deck. By now we were all sweating and as SSGT Garcia barked commands to do a variety of exercises, at a pace no human could keep, we all became "sugar cookies."
"SIT-UPS, ONE TWO, ONE TWO PUSH-UPS, ONE TWO ONE TWO, TOO FREAKIN' SLOW BENDS AND THRUSTS, ONE TWO THREE FOUR, ONE.. SIDE-STRADDLE HOPS, ONE TWO......."
After a few minutes of this treatment, an explosion erupted in the form of SGT Robinson's single command--- "FALL IN!" He was at the other end of the pit. We scrambled to our feet and ran over to him where he continued our "Incentive Training" or IT. This back-and-forth routine was repeated for about a half-hour until the defining moment in our platoon.
We were doing flutter kicks and blazing speed. I looked over to my left where PVT Howard was and just as I looked, four M&M's rolled out of his pocket. In horror, I looked up just in time to see SGT Robinson who saw the exact thing I did.
The world as I knew it up to that point ceased to exist. Suddenly, the world exploded into a nightmare of screaming. From nowhere, three other DI's appeared. One was SSGT Garcia and how he got across the pit as fast as he did I will never know. The two other DI's were one's that I had seen occasionally but where they came from is still a mystery. But it did not matter, stress was being laid down thick. The pace of IT went from insane to stark-raving mad. I have never been that scared and that tired in all of my life. Finally, we were marched back to the barracks looking like the Baton Death March. But it was far from over.
When we had received the M&M's, we were only given one bag and 1/4 of that bag was left over. As the IT went into high gear, SSGT Garcia had slipped away to the squadbay. He and the gear guard took the 1 and 1/4 bags of M&M's and thrown them across the squadbay. Then they had stomped them until you could not take one step in the squadbay without stepping on a crushed M&M.
As we entered the squadbay, we all saw what had happened and were terrified. The squadbay was always required to be spotless and this definitely was not spotless. The DI's never hesitated.
"GET THOSE GALL-DARN BLOUSES OFF YOUR UNDISCIPLINED BODIES AND CLEAN MY SQUADBAY!!! YOU WANT TO DISRESPECT AND TAKE ADVANTAGE OF THE SENIOR?! THAT'S RIGHT, JUST STAB THE SENIOR IN THE BACK! YOU DON'T CARE, AS LONG AS WHAT YOU WANT. A BUNCH OF INDIVIDUALS! YOU MAKE ME SO SICK I CAN'T EVEN LOOK AT YOU!! YOU ARE GOING TO PAY FOR THIS!"
This treatment went on for hours. We had to take off our blouses, turn them inside-out, and lay them on the deck. Them we would bend over and push the blouse across the floor as we ran from end to end. All the while, the psychological abuse continued. Eventually, it was chow time. Even though no one felt like eating, we had to go. We picked up our sweat-soaked, sandy, chocolate-caked blouses and put them on. We had to unblouse our boots and roll up the guidon like first-phase recruits. We were to be put on disgraced display.
The worst part of this story is that it happened on Monday so we had to wait until the following Sunday to wash our cammies. You could smell us coming all week. Needless to say, PVT Howard was not the most popular recruit for the rest of bootcamp.