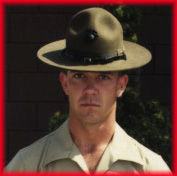 ---
Platoon 3075 had a three-man team of drill instructors consisting of the leader, Senior Drill Instructor Staff Sergeant Wertjes, the teacher, Drill Instructor Staff Sergeant Garcia, and the heavy, Drill Instructor Sergeant Robinson. All had their respective roles which sometimes bled over into each other's but mainly, they had their own missions.
Senior Drill Instructor Staff Sergeant Wertjes was our daddy. I say that unashamedly because that was his role. He was the man we were made to hold in the highest regard and whose approval we sought above all else. At first, he was no more than one of the demons that made our lives unlivable but that soon changed. He never coddled us but simply did not harass us as much as the other two. He was firm, fair, and intense. He would put you in your place but for a variety of reasons, not the least of which was the respect the other drill instructors showed him, he became the man we most wanted to be.
When he introduced himself to us, after returning from "The Moment," he told us the first of many inspiring promises that he kept during our three-month stay on MCRD. He told us that he would train us to the best of his ability and that he would never do so by physical abuse. He stated that neither he nor any one of his drill instructors would ever hit any one of us and that if it happened, to come straight to him. This came as a shock to some of us because we did not know the rules against physical abuse. Like the majority of Americans, we thought that physical abuse was part of the training and fully expected to be knocked around on a regular basis. In fact, a lot of us were wondering why we had not been knocked around up to the point when the stress level was so high in receiving. Senior Drill Instructor Staff Sergeant Wertjes set the record straight and true to his promise, no abuse took place. Well, no physical abuse. We were recruits, after all.
The very worst situation you could possible fathom in boot camp was letting down your senior drill instructor. The thrashing and yelling, we got used to because it happened on a daily basis. But to think that your senior was disappointed in you was a weight that was hard to shoulder. I think that some did not mind but those were the ones that this training was wasted on. Overall, the approval of the senior was the reward itself.
Many lessons I have written about revolve around Senior Drill Instructor Staff Sergeant Wertjes and for good reason. He was the man that lost his temper ( and his smokey) at Private Alejos in "The Flat Top Story." He was the man whose kindness was callously thrown back at him in "The M&M Story." He was the man who taught me about integrity and fairness in "The Pepsi Story." But most of all, this man taught me that in the midst of chaos, you can been kind without giving up your intensity or stepping out of your mission role. He was never my "buddy" but he always provided me with a positive role model of the ideal Marine. For this, I will be forever grateful.
---
There is a great update to this story. Read about Sergeant Major Wertjes!!!!
---