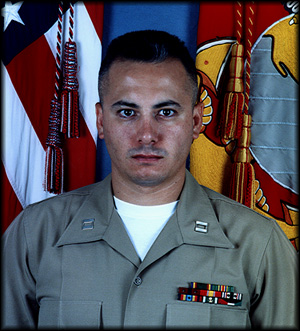 This page is a long time coming. I have been meaning to do it for a very long time for the simple reason that I get so many emails that ask much of the same questions. I hope that this will answer some of the questions you have about the Marine Corps, or what I believe the Marine Corps should be.
I will post some emails that I get and some answers I give. I hesitate to call this a FAQ page because for one, it is more than that. Secondly, the answers are not FAQs per se; they are my opinions and advice gathered from the years I have blissfully spent as a Marine.
1. Joining the military because my relatives served.
4. A letter to a soon-to-be Marine.
5. Enlisted Life versus Officer life
6. What should I Study in College?
8. Remember This When Suffering in Bootcamp
9. Conscientious Objector Wants to Join the Corps
10. Do I Have To Be A Ruthless Killer?
11. Do Your Part Any Way You Can.
12. The Marine Corps Rank Structure Defined
13. Some Good Advice for the Field
14. Bragging about "Assaulting Officers."
15. What it is like to be the Adjutant.
16. How your Military Occupational Specialty (MOS) is determined from TBS.
17. A worried mother's concern for her son's wish to be a Marine.
18. OCS AND BOOTCAMP
21. Kids in Bootcamp
22. Air Force or Marine Corps?
23. No, the Marine Corps is not being absorbed by the Army!!!
24. The Value of An Honorable Discharge by the SGTMAJ ofthe Marine Corps
25. Email explaining Officer promotion and "frocking."
26. Officer requirements and physical fitness in the Marines

---