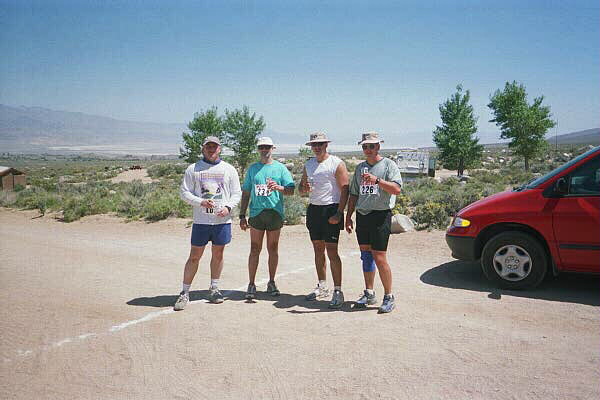 Results
| | | |
| --- | --- | --- |
| Name | Time | Placing |
| Gary Bash | 7:03:00 | 119 |
| Jason Grose | 6:14:00 | 97 |
| Brent Norquist | 5:46:15 | 81 |
| Phil Patch | 5:02:25 | 50 |
---

What is that old saying, "Fool me once, shame on you, fool me twice, shame on me?" In that case, shame on the lot of us because we packed up and met at the Dow Villa motel in Lone Pine to continue our insane tradition.
Major Gary Bash had been stationed in Yuma yet made the trip, slowly putzing through the desert no faster than the posted speed limit ("Obey the law of the land!"). Major Phil Patch retired from the Marine Corps and moved to Virginia, but braved the plane trip (traveling a couple thousand miles to run 26.2 of them on foot, just to turn around and head back afterwards).
That left Brent Norquist and me to travel from 29 Palms to make the set complete. With all the players in place, we were ready to start the pain...

---

The drive to the race
Night before the race
The race
Vegas trip

---
The Pictures
---