---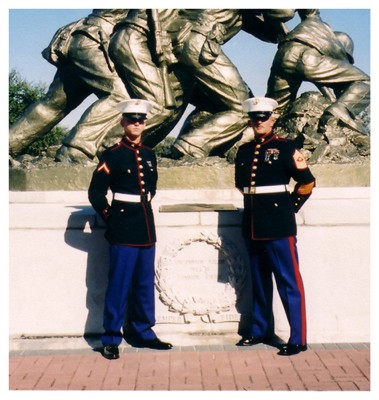 GARDEN CITY, N.Y.(April 9, 2002) -- Sergeant Major Anthony Hope graduated from Marine Corps Recruit Depot Parris Island, S.C. in 1978 as his recruit company's Honor Grad. Twenty-three years later his son, Joseph, did the same.
"I was more proud seeing my son march across the parade deck than I was the day I marched across if that could be possible," said Hope, currently serving as the sergeant major for Recruiting Station Buffalo, N.Y. Private First Class Joseph Hope graduated from Marine Corps recruit training Jan. 4, and is currently at Heavy Equipment Diesel Mechanic School at Fort Leonard Wood, Mo. He is set to graduate Friday with orders for Marine Corps Base Camp Lejeune, N.C.
According to the senior Hope, the decision to become a Marine was entirely his son's idea.
"I never pushed him to become a Marine," said the sergeant major. "He was on his way to Auto Diesel College in Nashville, when he decided he could learn as much in the Marines and be able to carry the title United States Marine."
Though he had graduated from recruit training as the Honor Graduate, Hope says he didn't hold it to his son to do the same.
"Never in a million years did I expect him to graduate as an honor grad," Hope said. "I know that he lived through 18 years of boot camp with me and knew the discipline and the drive to succeed was there ... I just never expected him to be the honor grad."
Since the younger Hope's graduation, the sergeant major says the bond between father and son has strengthened with the relationship between Marines.
"There isn't a day that goes by when we're not on the phone with each other. If he has a question, I am the first person he calls and that makes me feel good," said Hope. "There is an indescribable bond between my son and myself."
Recruiting Station Buffalo's sergeant major says his son is enjoying his time in the Corps so far, and looks forward to getting to his next duty station. As for Sgt Maj. Hope, he hopes for one more event to culminate the father-son Marine Corps experience. "We hope to be stationed on the same base before I have to retire."

---