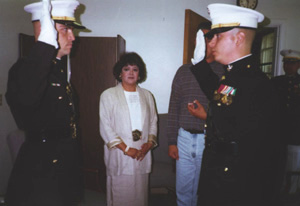 Why did I request Captain Stromberg to administer my oath? Who is this guy? Well, in honor of this most-impressive Marine, I would like to tell the story, as I remember it, of one of the bravest men I have ever met.
One day as we were preparing for the new year, our Marine Officer Instructor (MOI) at the time gathered us together in a formation and told us that we would have a visiting scholar the upcoming year. He said that the captain was kind of funny looking and not to be alarmed because he had been diagnosed with terminal brain cancer and would probably not be with us for the entire year. He was being assigned to the NROTC so that he could be near his family while he went through his medical treatments. Needless to say, we were a little taken aback and we expected the worst with the news of a "walking dead man" joining our tight little group of future officers.
The next surprise was that his name was Captain Stromberg and I remembered that name from my days back in Yuma as an avionics technician. It turned out that his father, Major Stromberg, commanded one of the squadrons that MALS-13, my old logistical squadron, supported. I had remembered the name because although I had never met the man, his was one of the names I had to memorize while competing for promotion boards.
When Captain Stromberg came on deck that summer, he was nothing like what we had expected. Yes, the chemotherapy had taken its toll on the good Captain's hair, but his energy was astounding. Not the remorseful, dreading, vision of gloom and doom, Captain Stromberg showed up with a more positive attitude and zest for life that anyone I had met at the University up until then. He did not want to be treated like a pitiful shell of a man. He was a Marine and he was given all the respect that comes with that accomplishment. It would not take long before he would earn even more respect as a result of his attitude and sense of humor.
Throughout the year, Captain Stromberg had his ups and downs. Sometimes he would disappear for a few days and when we asked, we would be told that he was recovering from some chemotherapy. When he would return, he would be a little sluggish and sometimes seem a little disoriented. But what never changed was the attitude. Always ready with a loud and boisterous greeting, usually followed by a hearty handshake, he never failed to brighten your day. More than once you could hear him walking from his office to the head just singing his lungs to their limit...inevitably off key. In the wardroom, we would just look at each other, smile, and shake our heads.
One day I was sitting in the NROTC library which sits right next to the Captain's office. Because the building is older than petrified rock, the walls are paper-thin and every whisper can be heard. On this particular occasion, Captain Stromberg was talking on the phone and you could hear him agreeing with whoever he was speaking with. "Uh, huh...I understand....yeah.....OK, that would be fine. Thank you very much." suddenly, the phone slams down and he yells "GO TO HELL, YOU BASTARD. SCREW YOU!!" He continued on this tirade for awhile and along with a few Marines and Marine options, I tried to contain my laughter until my stomach cramped. Meanwhile, I few junior midshipmen sat there in stunned silence, not knowing what to do. It was one of the funniest moments during my NROTC career.
When I left the unit, Captain Stromberg had been there two years. When he had arrived, the doctors had given him only months to live. This was indicative of who this man was. Never did he give up, never did he cry on anyone's shoulder, never did he let his cancer dampen his strong and heroic personality. Because of this fact, I walked into the MOI's office, Major Becker, about a week before my commissioning and asked him if he would be offended if I asked Captain Stromberg to administer my oath. He was happy to forgo his traditional right as the senior Marine in the unit so I marched down to Captain Stromberg's office and requested a word with him. As I entered, he got right to his feet (a sign of respect I have never forgotten and have incorporated into my own professional courtesy habits) and dropped the work he was in the middle of. I asked him if he would read me the oath at my upcoming commissioning. You would have thought that I asked him to be my best man at my wedding. Just the look on his face told me instantly that it would be impossible to determine if the honor would mean more to me than to him or vice versa. He was so happy and honored (I think the exact word he used was "stoked") about the idea. But he told me that he had never done it before and that he hoped I would not be offended if he read it off the paper because he did not have the entire oath memorized.
Less than a week later, I accompanied my wife, my two kids, my mother, and my brother into the Commanding Officer's office to receive my oath. As I stood there, so nervous that my knees were knocking, I was fortunate enough to have in front of me a Captain of Marines dressed in full dress blues administering my oath of office. Captain Stromberg stood there proud and I repeated every word he said, giving my word as a Marine that I would support and defend the Constitution of the United States of America. These words, this promise that I made, came from the lips of one of the greatest Marines I have ever met and when they came, they came from his heart because to my surprise, there were no notes. Captain Stromberg had memorized the entire oath and delivered it without as much as a glitch. This he had done for me and is just one of the reasons that I consider my oath one of the most special moments of my life. Thank you, Captain Stromberg.
-- Lt Grose