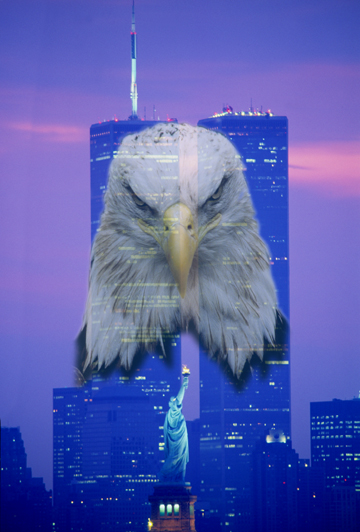 The tragic events of September 11th, 2001 will be forever burned in not only our national consciousness, but also in our human one. As part dedication and part historical archive, I gathered some of the more poignant, heartbreaking, and heartwarming items to display on this page.
There were so many heroes on that day that it would simply be too difficult to dedicate this page to a single group. How about I make it for all Americans.
Misc Files
The news breaks on the front page of The Seattle Times. (requires Adobe Acrobat)
A tribute executable file: American Tribute (~2 MB)
The attacks in all their ugliness. (Power Point)
Terror Pictures
The explosion as one of the towers is hit
The second plane flying into the tower
The devistation at ground zero
Aftermath Pictures
American eagle shedding a tear
American eagle ready to fight
A proposed plan for the new WTC
The Marine Corps colors still flies proud in the midst of disaster at the Pentagon.
Priceless
The flag is draped over the Pentagon
Firemen raising Old Glory at the WTC site
Six Month Anniversary Columns of Light
They carried Sergeant Major Curtin out of the rubble
Flying over Ground Zero
Political cartoons
Eagle sharpening talon
Strained restraint
Plucking feathers
I'll take it from here...
We've reached the top...
Reactions
President Bush's address to the Nation
What A Bunch of Idiots!! by Jason D. Grose
You hit the building but missed America
Where was God in all of this?
If there is a God, where was He?
Unspeakable Bastards
You Oughta Know
German sailor emails his thoughts
Germans show support for USA
The value of "Semper Fi"
Editorial from a Romanian newspaper
Settling the score by David Letterman
Tributes
I Now Have Four New Heroes by Jason D. Grose
President Bush gives and gets deserved respect
What President Bush is made of
Ice Sculture of fireman and angel
A fitting tribute (needs high bandwidth!!)
Misc
Good Question
Marine, Always
Poem
Letter from a deployed Marine
Medal of Valor
Humor
Beware of the "Elevens"!!!!
The Devil Went Down To New York City
Osama's inter-cave memo (humor)
Operation Eduring Freedom
My cousin Troy's fighting the war on terrorism
The greatest paint job for a helocoptor I've ever seen
Marine Bootcamp
A 3-part series written for the Washington Post about recruits in the wake of the Septemeber 11th Tragedy.
Part I: A Day of Terror Inspires Recruits To Take Up Arms for the New Fight
Part II: For Female Recruits, the Struggle Begins Long Before the Battlefield
Part III: Recruits' Dreams and Fears Come Together in the 54-Hour 'Crucible'

---